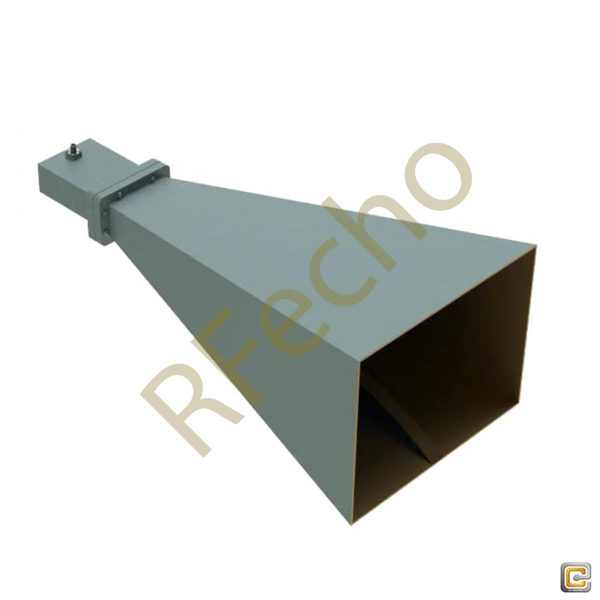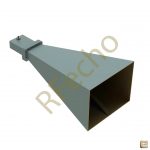 15 dBi Gain, 2 GHz to 4.8 GHz, Multi Octave Horn Antenna OBH-200D-15
What can OBH-200D-15 Double Ridged Horn Antennas do?
The antenna is capable of supporting a wide range of communication services. It can be used for calibration systems, and antenna test systems can be applied to reflective antenna feeds and support various mobile communications. As a result, you can enjoy the high-quality data transmission function, which can enhance the user's experience in the mobile network and can also be used in the fifth-generation mobile communication system, which is capable of sending large data packets, files, videos, and pictures more quickly, thus providing the users with a better mobile network experience. And it is instrumental as gain horns for antenna measurement chambers, EMC laboratories, compact radar-based microwave imaging systems, and breast-imaging systems. Out of all these, Ridged Horns were the premier choice of researchers for UWB applications due to their high gain and directivity.
What are the characteristics of OBH-200D-15 Double Ridged Horn Antennas?
Multi Octave Horn Antennas offer splendid performance over the frequency range from 2GHz to 4.8GHz. It has the characteristics of ultra-wideband and constant beam width. Unlike other classical horns, these Ridged horns provide a better impedance matching for the traveling waves' propagation. These ridged horns comprise single side exponentially tapered ridges that help the incoming waves to undergo a fair and smooth-traveling alongside its edges. The Vivaldi-shaped horn feeding ridges are designed and introduced into the antenna to extend the lower cut-off and operating frequency range. The OBH-200D-15 is extremely weight-saving, weighing only 1300g, lighter than a 14-inch laptop, and comes with a box for easy portability and testing. The bandwidth of OBH-200D-15 is 50% wider than that of the same type of antenna, and it is a multi-octave antenna with a gain of 15dBi in a Wideband range. Antennas supporting linear polarized waveforms are available.
Description
Additional information
Reviews (0)
Description
The RFecho Multi Octave Horn Antenna OBH-200D-15 is a broadband antenna that offers excellent performance over the frequency range from 2 GHz to 4.8 GHz. The input handling capability high gain of 15dBi, Low VSWR 2, cross-polar isolation of 50dB, and up to 10 watts make this horn antenna an excellent general use performer.
Multi Octave Horn Antenna offers a very low VSWR in its nominal frequency range and very broad bandwidth. The increasing gain with frequency helps to compensate cable losses. RFecho Multi Octave Horn Antenna has an impedance of 50. The antenna supports Linear polarized waveforms.
SPEC
Multi Octave Horn Antenna Specifications

15 dBi Gain, 2 GHz to 4.8 GHz

OBH-200D-15

Property

Value

Min. Frequency (GHz)

2

Max. Frequency (GHz)

4.8

Gain(dBi)

15

VSWR (Max.)

2

Polarization

Linear

Cross Polar Isolation (dB)

50

Impedance (?)

50

Features

Linearly Polarized High Gain, Low VSWR

Individually Calibrated

Linear Polarized with High Polarization Purity

Applications

Navigation

Guidance Field

System Setup
PDF
Outline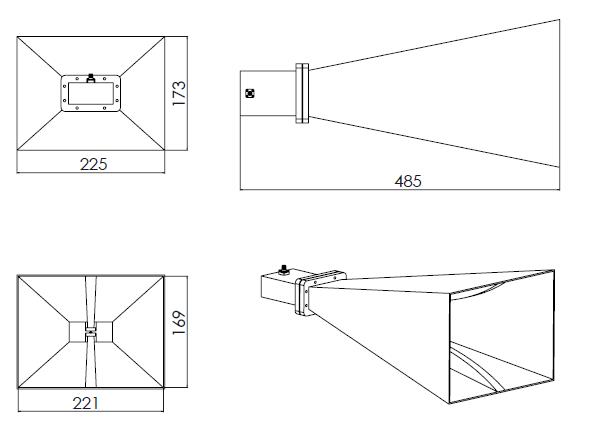 Additional information
| | |
| --- | --- |
| Min. Frequency (GHz) | 2 |
| Max. Frequency (GHz) | 4.8 |
| Gain (dBi) | 15 |
| VSWR (Max.) | |
| Cross Polar Isolation (dB) | |
| Polarization | |
| Impedance (Ω) | |