ThinKom Unveils NGSO Satellite User Terminal Prototype for Satcom Applications
RFecho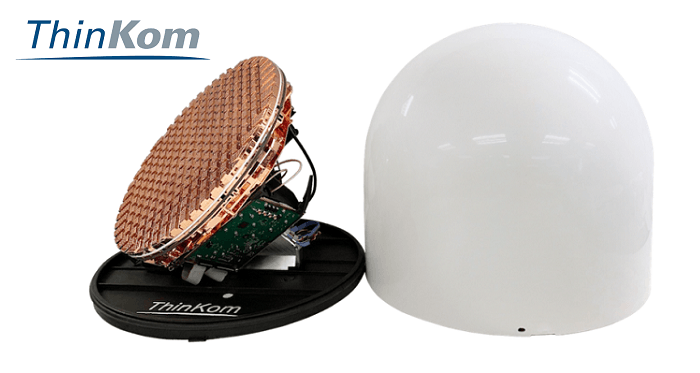 Leading provider of broadband antennas and satcom solutions, ThinKom Solutions, has unveiled a prototype low-cost, lightweight user terminal for the emerging multi-billion-dollar consumer and enterprise satellite communication market. The ThinWave Ku13, is a compact, lightweight unit that offers the spectral efficiency, beam agility and switching speeds to work efficiently on satellites in low-Earth orbit (LEO), medium-Earth orbit (MEO) and highly elliptically orbit (HEO). The terminal is built on ThinKom's patented CTS parallel-plate, flat-panel antenna technology, which has been field proven and deployed by government and commercial users across the globe.
ThinKom has worked closely with a Tier 1 contract manufacturer to incorporate proven high-volume manufacturing processes and materials that has reduced manufacturing costs without compromising performance in terms of spectral efficiency, reliability and constellation interoperability.
The full-duplex antenna terminals boast 60 percent lower profile and 75 percent lighter weight as compared to traditional parabolic dishes of comparable performance. ThinKom's user terminals reduce both installation costs and maintenance costs.
The proliferation of new LEO, MEO and HEO satellite constellations coming into service over the next few years will open a host of new markets for satellite communications globally. Potential market segments and applications include business/enterprise, government/military communications, consumer broadband, cellular backhaul, Internet of Things (IoT), remote cable and DSL networks and Wi-Fi hotspots.
The new user terminal is on display at the on-going SATELLITE 2020 in Washington DC from March 9-12 (Booth #323).
Click here for more news and product highlights from SATELLITE 2020.