Linx Introduces Flexible Embedded Antenna for 6 GHz Wi-Fi 6E Applications
RFecho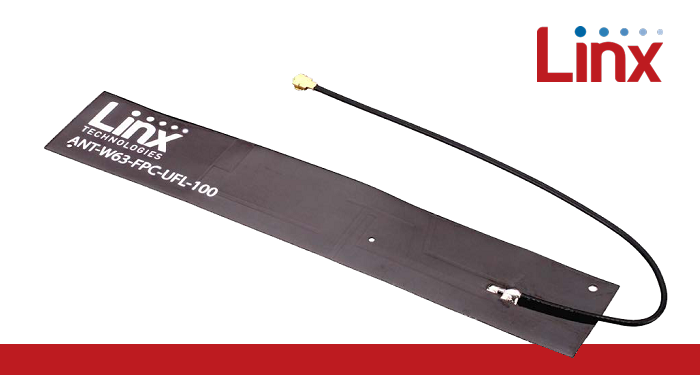 Linx Technologies has released a new antenna for 6 GHz Wi-Fi 6E applications. The ANT-W63-FPC-UFL-100 is a flexible embedded antenna the operates in the 6 GHz band (5.925 GHz to 7.125 GHz) for Wi-Fi 6E and 2.4 GHz / 5 GHz for regular WiFi/WLAN applications. This antenna was released right after the US Federal Communications Commission (FCC) vote and approval of the 6 GHz spectrum for Wi-Fi WLAN applications.
The W63-FPC antenna provides a ground plane independent dipole embedded antenna solution comparable in performance to an external antenna. The flexibility and adhesive backing make this antenna easy to mount in unique and custom enclosures, while enabling an environmentally sealed enclosure and protection from tampering or accidental antenna damage. Connection to the radio is made via a 100 mm (3.94 in) long, 1.13 mm coaxial cable terminated in an MHF1/U.FL-compatible plug connector.
Linx Technologies believes there is a huge potential for expanded Wi-Fi 6 applications and the W63-FPC antenna is just the first Linx antenna that supports the 2.4 GHz, 5 GHz and 6 GHz bands. The company has plans to support Wi-Fi 6 and Wi-Fi 6E with a broad portfolio of antennas for industrial and enterprise routers and gateways, smart home devices and everything IoT.
The new W63-FPC antenna (ANT-W63-FPC-UFL-100) is available today from Linx Technologies' distributor and manufacturer representative networks.