Proxim Wireless Unveils New Backhaul Radios Based on Beam Steering Technology
RFecho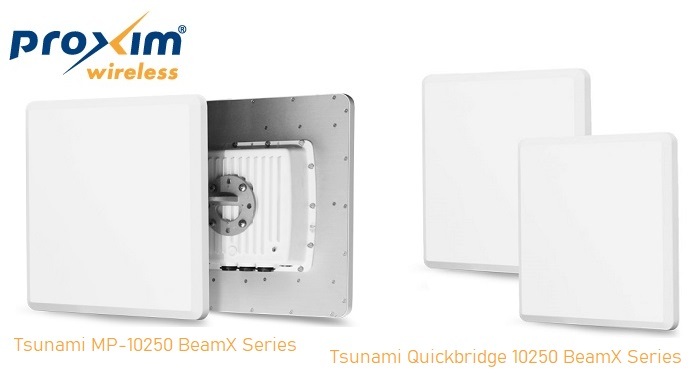 Proxim Wireless has introduced two new BeamX backhaul radios – the MP-10250-SRX and the QB-10250-LKX, to deliver improved performance and simplify the installation process for customers. BeamX is Proxim's advanced beam steering technology, which first came to market in 2018 with the introduction of the successful Tsunami MP-10250-BSX Point-to-Multipoint Base station.
The addition of the Tsunami BeamX subscriber unit to the Point-to-Multipoint range provides the ability to install extremely efficient Point-to-Multipoint networks in overcrowded RF environments. 
Working in tandem with the MP-10250-BSX beam steering base station, the newly launched MP-10250-SRX  offers improved link performance. The tight, steerable, and bidirectional beams between the Base Station and Subscriber Unit deliver greater range, and when combined with the secondary look-ahead scan radio built into all BeamX products, significantly improves the performance of the automated interference avoidance technology. 
The introduction of the QB-10250-LKX radios speed deployment of point to point networks by eliminating the complicated and time-consuming antenna alignment process. Now a rough alignment between endpoints is enough for the unit to take control of the setup. Once setup is complete, the always-on BeamX intelligence ensures the link remains optimized to take full advantage of the system's high throughput capability. 
As an added benefit in urban nLOS environments, the Quickbridge 10250 BeamX series can help find the right reflection angle from a nearby wall or building to facilitate connectivity. For more information, click here.