RFS to Provide Ruggedized Radomes for Antennas in Extreme Weather Conditions
RFecho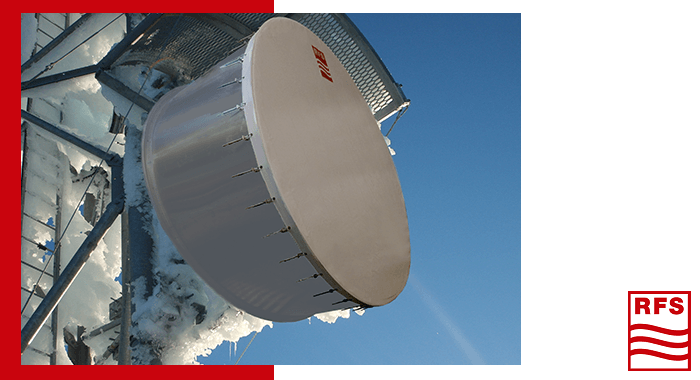 Radio Frequency Systems (RFS), a leading provider of wireless and broadcast infrastructure solutions, is now providing ruggedized radomes with its high-wind, high ice antennas. The new radomes will come included with the antennas and are designed to prevent radome damage in extreme wind and ice conditions. They will thus further strengthen the robust and field-proven RFS high wind, high ice antennas.
Unique Radome Design Features Target Extreme Conditions
RFS' extreme radome includes several design enhancements that target the challenges associated with ensuring long-term radome resilience and performance in high wind and high ice conditions. For example, the extreme radome provides an extremely tight fit all the way around the shroud, a generous overhang and many robust connection points to eliminate the flapping and tearing issues that can occur with continuous exposure to high winds. In addition, the extreme radome is manufactured with a strengthened and reinforced radome material, including an additional layer with a protective coating that further increases durability and resilience to snow and ice.
According to RFS, with increasingly severe weather being experienced globally, microwave antennas need radomes that can withstand more extreme conditions. The RFS extreme radome goes well beyond standard weatherproofing measures to ensure longevity in the field, reduce the need for repairs and replacements and increase peace of mind for customers. The company has already received a lot of positive feedback from customers who have deployed antennas with the extreme radome.
RFS microwave antennas with the extreme radome are deployed on off-shore platforms in the Atlantic Ocean and the North Sea, as well as in the Swiss Alps, the Scottish Highlands and northern Norway.