With 5G Looming Ahead, Leading Market Players Look to Extend their 5G-Antennas Portfolio
RFecho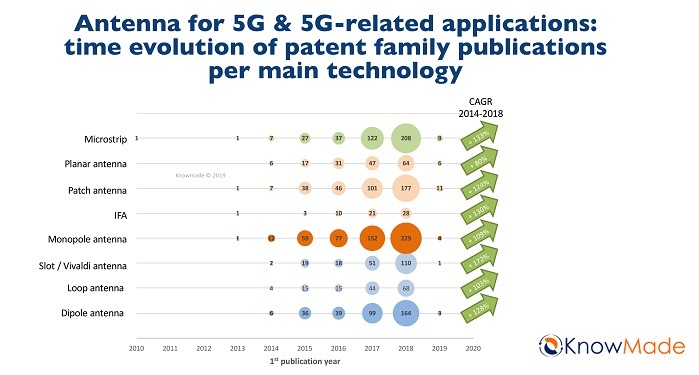 The desired IP landscape related to antennas for 5G still looks unsettled. With more than 75% of patent applications still pending, much will change in the coming years. After an initial period of domestic patent applications, the main IP and market players including leading companies like Samsung, Intel, Ericsson, and Huawei, have begun extending their portfolios worldwide. Samsung and Intel appear to be the two leaders currently best-positioned to limit their main competitors' patenting activity and freedom-to-operate.
Market analysis company, Knowmade, has released a patent landscape analysis report with a deep understanding of the key patented technologies and current IP strategies being followed by leading companies. According to Knowmade's analysts, more than 620 patent applicants are involved in antennas' development for 5G applications. The report titled "Antenna for 5G and 5G-related Applications" provides a deep understanding of the ecosystem and key companies' IP position through a detailed analysis of their patent portfolios.
Knowmade has also explored the capability of each company to develop 5G antennas. They have addressed the impact at the antenna level, in term of technology evolution and market trends and addressed the following questions:
How will leading companies manage 5G introduction?
What are the current R&D efforts made by these companies?
What is the status of the IP landscape?
Knowmade, a partner of Yole Développement (Yole), has proposed a valuable and comprehensive overview of the antenna patent ecosystem.
5G wireless communication, expected to hit the market by 2020, is the next mobile technology standard. Therefore, it will totally redefine how RF front-end interacts in-between the network and the modem. New RF sub-6 GHz, and mm-wave bands that will be used for 5G pose big challenges for companies in the space. However, with these challenges comes an opportunity to disrupt the market's leadership!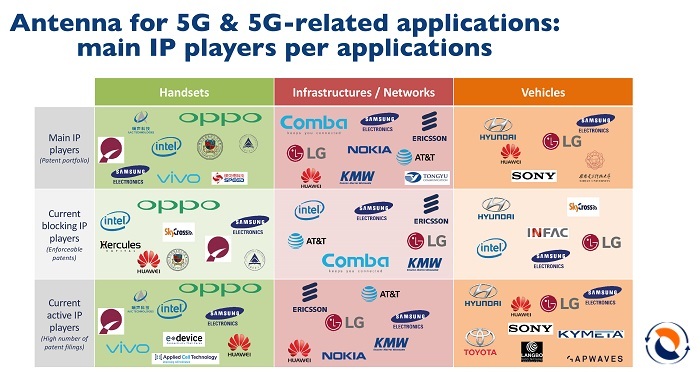 According to Cédric Malaquin, a Technology & Market Analyst at Yole, on the 5G sub-6 GHz side, the current front-end leaders including Broadcom, Qorvo, Skyworks, and Murata have already begun adapting to these changes. Skyworks recently launched its 5G Front End platform, Sky5 and Qorvo is set to integrate 5G content in its high end LTE platform, the RF Fusion. Qualcomm has pushed the 5G mmWave approach with the commercial release of a dedicated compact antenna in package to be integrated into a smartphone corner. Qualcomm is a relatively new entrant that brings with it an end-to-end solution from modem to antenna, believes Antoine Bonnabel, also a Technology & Market Analyst at Yole. Sony's XZ2 was the first mobile phone to adopt Qualcomm's complete solution.
Along with mobile devices, 5G and 5G-related networks require the deployment of new infrastructures supporting specific protocols and operation modes, such as MIMO, massive MIMO, beamforming, beam steering, carrier aggregation, and others. In addition to an increase in the data rate and bandwidth, 5G devices must be compatible with many data types. 5G players must explore new frequency spectrums and more – especially the millimeter wave frequencies, from 20 GHz to 300 GHz. Among all RF components now in development for 5G applications including filters, power amplifiers, RF front-end modules, etc. the antenna has become a very complex, invaluable segment of the 5G network.
According to Paul Leclaire from Knowmade, it was only in 2014 that the term "5G" began appearing in patents. Since then, the number of 5G-related patent publications has seen a huge increase, with a growth rate of 113% from 2014 – 2018. This strong acceleration is pushed mostly by Chinese IP players, which account for more than 56% of IP activity. In particular, Yole has noticed a large number of Chinese academic players, which is quite unusual in the telecom domain.
Read the complete report here.