Ceramic Antenna for Global LTE and 5G Cellular Applications
RFecho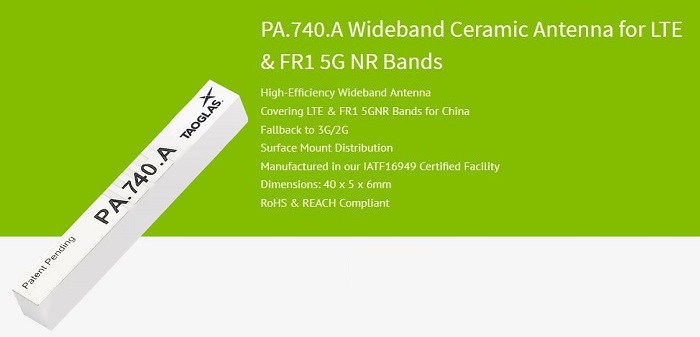 Taoglas has expanded its hugely successful Warrior series of ceramic antennas for LTE with the addition of the PA740 antenna, at the 2019 MWC Shanghai. With additional LTE bandwidth and new bands added for 5G functionality, the new antenna is an evolved design from Taoglas's successful Warrior PA710 High-Efficiency Ceramic Wideband LTE Antenna. With the optimal antenna efficiency and performance for IoT devices including smart home devices, mobile devices, and vehicle integration, Taoglas continues to provide tthe most advanced future-proof antenna technology for any LTE and 5G application.
High-performance, reliable LTE and 5G antenna technology is crucial to the future of the Internet of Things (IoT), mobility and overall customer experience. The ability to have precise high-speed connectivity, low latency, reliable data transfer, and computing in real-time is dependent on antenna reliability. Taoglas serves the largest technology companies, manufacturers, and distributors in the world with affordable, easy to implement antenna and RF solutions. Most importantly it also has multiple test and development centers across the world in order to ensure integration and customer product design are certification and market ready.
The Warrior X PA.740.A is a patent pending, high-efficiency, wideband SMD ceramic antenna, designed to cover worldwide LTE bands and FR1 5G NR bands for China (4800 – 4900 MHz). It uses high-grade custom ceramic material and new design techniques to deliver the highest efficiencies on all bands when mounted on the device's main PCB. The PA.740 is backward compatible for global 3G/2G applications. It is delivered on tape and reel and mounted securely during the device PCB reflow process. The PA.740 also operates with great efficiency on worldwide NB-IoT and CAT-M frequency bands.
The PA740 is more resistant to detuning compared to other antenna integrations. If tuning is required it can be tuned for the device environment using a matching circuit, or other techniques on the main PCB itself. There is no need for new tooling, thereby saving money if customization is required.
Designed to use the same dimensions and footprint layout as the PA710, the PA740 allows customers to drop in the new design without the need to modify their printed circuit board design. It covers existing LTE bands and includes the 3.5GHz and 4.8GHz new radio (NR) bands for China. Multiple carriers using the new 5G NR C-band spectrum include China Telecom, China Mobile and China Unicom.
If you want to learn more about Taoglas 5G NR antennas and other products, click here.