L-com Launches Embedded PCB Antennas with IPEX Connectors
RFecho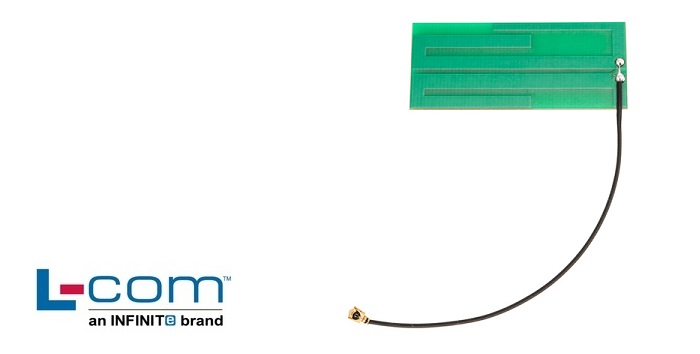 L-com, an Infinite Electronics brand and a manufacturer of wired and wireless connectivity products, has released a series of embedded PCB antennas designed for integration into self-contained wireless equipment developed by many OEMs and ODMs. By embedding these PCB antennas directly into a device, the need for an external antenna is eliminated, saving money, time and valuable space.
These new embedded PCB antennas were developed to address a wide range of applications including Wi-Fi, cellular, IMS and IoT where just about any device that requires wireless connectivity can benefit. They are available in 2.4 GHz, 5 GHz, 2.4/5 GHz, 700/2700 MHz and 824-960/1710-1990 MHz frequency options with gain ranging from 0 to 3 dBi. All 12 antennas in this new line feature popular IPEX-style connectors terminated to 1.13 coax cable. I-PEX manufactures high-precision Micro-Coax, FPC, FFC, RF, and Board to Board commercial connector products.
These antennas offer both integration and seamless wireless connectivity. L-com's new embedded PCB antennas with IPEX connectors are in stock and available for immediate shipment. Click here to learn more these antennas.