Linx Announces New Monopole Antennas for Cellular IoT Applications
RFecho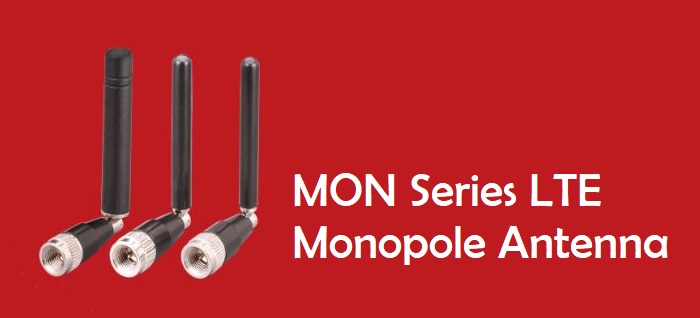 Linx Technologies, has added new antennas to its MON Antenna Series for LTE cellular applications, including LTE-M (Cat-M1) and NB-IoT cellular IoT uses. The company announced the addition of the new "MON-L" and "MON-E" antennas that would now provide more options for engineers and designers working in the demanding 600 MHz and 700 MHz LTE frequency bands that are favored in cellular IoT applications for signal range and robustness.
The MON Series external connector-mount antennas are compact with hinged, rotatable whips for performance optimization in indoor and protected applications. The new MON-L provides excellent performance at 600 MHz LTE band 71 (Peak Gain 3.4 dBi, 73% efficiency) while both the MON-L and MON-E antennas offer outstanding performance at the 700 MHz frequency bands favored by North American carriers, Verizon, AT&T and T-Mobile, as well as in 800 MHz and 900 MHz ranges favored in Europe.
All MON Series antennas also support cellular bands from 1710 MHz – 3800 MHz used by carriers worldwide. Additionally, they can be used for low-power wide-area (LPWA) network applications at 868 MHz and 915 MHz for LoRaWAN and Sigfox, and members of the series also support Bluetooth, GPS/GNSS and Citizen's Broadband Radio Service (CBRS) applications.
The new MON-L (ANT-LTE-MON-SMA-L), MON-E (ANT-LTE-MON-SMA-E) and existing MON Antenna (ANT-LTE-MON-SMA) are available from Linx Technologies' distributor and manufacturer representative networks. 
Click here to view Linx Antennas on everything RF.