Molex Gets Recognition for Developing an Innovative Antenna Solution for Cars
RFecho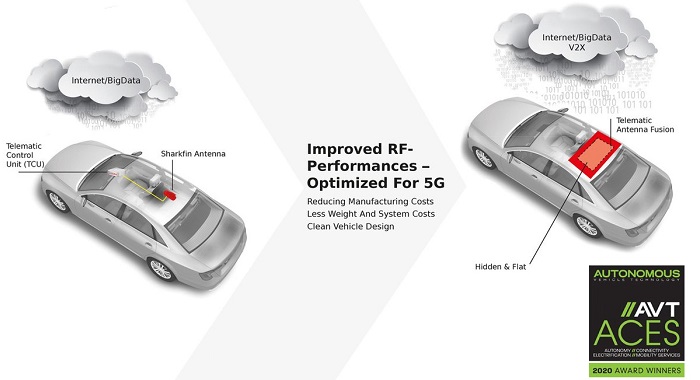 Molex, an automotive Tier 1 supplier of end-to-end data solutions, has been selected by the editors of Autonomous Vehicle Technology (AVT) magazine for the second year in a row as a recipient of the 2020 ACES Award. Molex is recognized in the category of Connectivity for its next-gen solution that fuses a telematic control unit (TCU) into an antenna creating a sleek, hidden design.
As connected vehicles continue communicating with the digital environment, the role of antennas and integrated high-performance TCUs (Telematic Control Unit) is increasingly crucial. With its extensive expertise, Molex fused the two in an innovative solution to create the TCU Antenna Fusion. 
Molex TCU Antenna Fusion improves RF performance by integrating more antennas distributed under the roof. The result is a solution that is 5G-optimized- which is fundamental for the intelligent car of the future to execute V2V as well as other V2X capabilities (i.e., vehicle-to-infrastructure, vehicle-to-pedestrians and vehicle-to-network). The Molex TCU Antenna Fusion device delivers cutting-edge data transmission while retaining cars' sleek, aerodynamic designs by implementing a high-performance antenna that's hidden.
The solution ensures efficient connectivity that is crucial for the ultra-high data transmission of smart cars, especially as technology moves to 5G mmWave solutions. This innovation creates additional value by delivering strong RF-measurements results. And because the telematic unit is positioned below the hidden antenna and reduces cable lengths throughout the vehicle, the Molex TCU Antenna Fusion both decreases manufacturing costs with a smaller bill of material and eases environmental impact through weight reduction and improved aerodynamics.
Winners of the AVT ACES Awards were evaluated and chosen based on editor, industry expert and reader inputs. Only the most innovative technologies, products, and services of the year in the areas of vehicle autonomy, connectivity, electrification, and mobility services (ACES) are considered.
Click here to read more about the telematic control unit antenna fusion.