MIMO Antenna System for Multi-Gigabit Wi-Fi 6 Applications
RFecho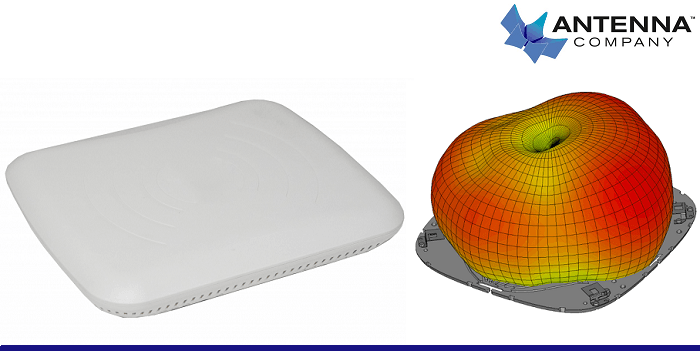 Antenna Company, a designer of high-performance embedded antennas, has announced production shipments of a Wi-Fi 6 (802.11ax) compatible MIMO antenna system designed to increase network capacity, extend the range and reduce latency in enterprise networks. The antenna system consists of 10 antennas in total, supporting a 4×4 5 GHz + 4×4 2.4/5 GHz Wi-Fi configuration. An additional 2.4 GHz IoT/BLE (Bluetooth low-energy) antenna is included to enable IoT use cases such as location tracking, along with a dedicated 2.4 GHz/5 GHz antenna for radio spectrum management.
Wi-Fi 6 enables several new features designed to support bandwidth-intensive use cases in dense Wi-Fi deployments. The antenna system supports concurrent operation of dual 5GHz radios while achieving cross-pair antenna isolation of greater than 40 dB. In the dual-radio mode, industry-leading over-the-air speeds of up to 5.2 Gbps can be achieved.
Antenna Company's Wi-Fi 6 enterprise antenna system also features:
Compact design that enables size reduction of enterprise access-points by 20% or more, without sacrificing antenna system performance

Low input impedance essential to achieve peak rates during 1024-QAM operation
Robustness against antenna de-tuning from the system environment
Antenna Company has optimized the performance of the antenna system to meet the demanding requirements of enterprise-class products. With their scalable design, OEMs can deploy enterprise access-points that offer 4x improvement over previous generation access-points.
The new Wi-Fi 6 antenna system is part of a family of commercially available solutions that also includes a 4×4 2.4/5 GHz option for small-to-midsize enterprise deployments. Antenna Company showcased this WI-FI 6 MIMO ANTENNA SYSTEM at MWC19 Los Angeles.