NXTCOMM Successfully Designs a New Electronically Steered Flat Panel Antenna
RFecho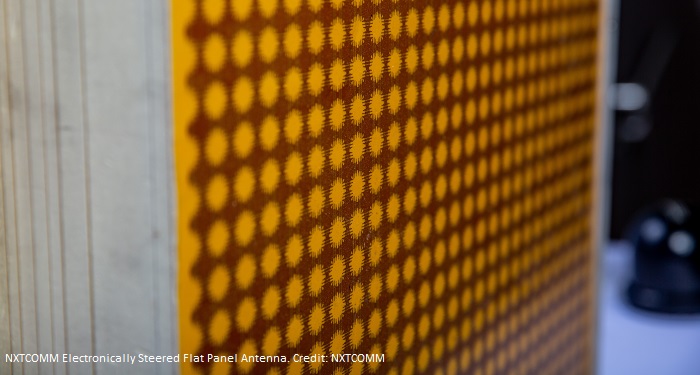 NXT Communications Corporation (NXTCOMM) has announced the completion of initial designs of its new electronically steered flat panel antenna to serve key mobility markets. They collaborated with Georgia Tech Research Institute (GTRI) to explore antenna and RF system design options featuring their patented fragmented aperture technology.
Their high-performance modular phased array design has no moving parts – meeting the current and emerging satellite connectivity demands and key to delivering cost-effective worldwide connectivity. Their antenna, including the core subarray design, represents a real breakthrough opportunity for NXTCOMM to bring proven, low-cost, high-performance flat panel satellite antennas to the commercial aviation marketplace.
NXTCOMM's antennas will support the high-volume commercial mobility markets across the full Ku-band 2.5 GHz wideband frequency range. NXTCOMM's modular design approach allows for scalable, lighter weight with significantly better gain, thermal efficiency and reduced power consumption. Over-the-air testing for the Ku-band antenna begins in the fourth quarter with commercial delivery in the first half of 2021.
NXTCOMM's design features improved RF performance while reducing the power consumption of the array – a typical hurdle for many phased array solutions. The design leverages an advanced silicon-based chipset and a novel combining network that allows the antenna to be manufactured on a single PCB. The design is inherently wideband, supporting well over 2.5 GHz of dynamic bandwidth instantaneously, a key differentiator. The core technology is applicable to virtually any frequency band, and the roadmap includes both Ku- and Ka-band versions.
NXTCOMM appointed industry veteran Carl Novello as Chief Technology Officer to oversee the antenna product engineering, design and development. Novello has led product and solutions development for Intellian Technologies, Harris Corp., Kymeta Corp. and Panasonic's Maritime group.
What distinguishes the NXTCOMM design is that it delivers enhanced performance at lower complexity than existing solutions. Their antennas use fewer costly components, are modular in form factor, and take advantage of cost, weight and size reductions inherent in silicon-based chipsets. This translates to dramatic increases in price performance, resulting in high-performing connectivity solutions for any global connectivity market application.