Qualcomm Introduces mm-Wave Antenna Module for its Snapdragon 5G Chipset
RFecho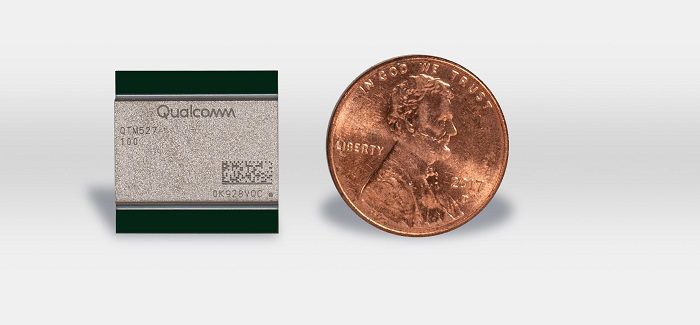 Qualcomm Technologies has introduced a new mm-Wave antenna module for the Snapdragon X55 5G Modem-RF System. The Snapdragon X55 5G Modem-RF System is the world's first fully integrated extended-range mmWave solution for 5G fixed wireless access (FWA) – allowing mobile operators to offer fixed internet broadband services to homes and businesses using their 5G network infrastructure.
The new QTM527 mm-Wave antenna module expands the capabilities of the Snapdragon X55 5G Modem-RF System to deliver a comprehensive modem-to-antenna platform for flexible, cost-effective, high performance 5G mmWave customer-premises equipment (CPE) designs. By building on its existing 5G mmWave technology leadership with a high-power CPE solution for Power Class 1 devices, Qualcomm Technologies is enabling mobile carriers and OEMs to accelerate the expansion of high-speed internet access to under-served suburban and rural communities, as well as dense urban environments, with a plug-and-play, multi-gigabit alternative to cable and fiber.
The Snapdragon X55 5G Modem-RF System architecture and mmWave innovation drives best in class 5G performance and scale. The new extended-range solution will allow operators to provide enhanced fixed broadband services with broad coverage in urban, suburban and rural environments. OEMs will be able to quickly develop portable customer-premise equipment at scale, which operators can use to deliver fiber-like internet connectivity and performance for homes and businesses. This innovation is yet another example of 5G's potential to transform industries beyond the smartphone, just like we're seeing in transportation, AR and VR, industrial manufacturing and more, believes Qualcomm.
5G fixed wireless access CPEs can be deployed on a roof or in a window to receive a 5G signal – skipping the "last mile" fiber deployment typically needed for in-home broadband. As the world's first high-power mmWave antenna module for 5G FWA, the QTM527 mmWave antenna module offers fiber-equivalent performance at extended range, enabling carriers and OEMs to deliver 5G's multi-gigabit speeds and ultra-low latency to a wider customer base within a large coverage footprint.
The QTM527 builds on prior mmWave technology breakthroughs to extend 5G beyond the smartphone. Introduced into the Snapdragon X55 5G Modem-RF System, the mmWave antenna module supports up to 64 dual polarization antenna elements for optimal and extended mmWave range. This full system solution includes the latest mmWave technology, including beam forming, beam steering and beam tracking for bi-directional communication, along with global band support for compatibility in every major region around the world.
The QTM527 is currently being sampled to customers and the first high-power mmWave CPE devices are expected to arrive in the first half of 2020.