Aesthetically Designed 5G-Ready Indoor Small Cell Antennas
RFecho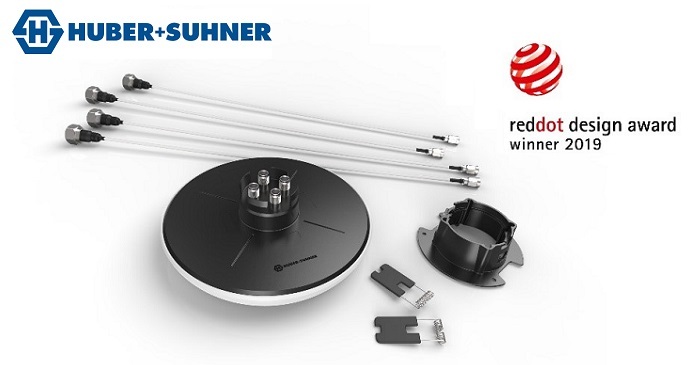 At the Microwave Workshops & Exhibition (MWE) 2019, taking place in Japan from Nov. 27-29, Huber+Suhner, is showcasing its new indoor small cell connectivity solution, SENCITY Occhio, the latest addition to its antenna portfolio.
With 5G on the horizon, operators will require access to more bandwidth than ever before. Reliable, fast coverage, extended capacity and simplistic installation processes are vital factors and top priorities for operators as they look for the best technology on the market to support their journeys to 5G. Along that journey, always-on mobile communications, especially within indoor environments has become critical.
Among its attributes, Huber's SENCITY Occhio MIMO DAS (Distributed Antenna System) or small cell antenna, offers the operators 5G coverage with a simple, time-saving installation process and an attractive industry preferred design with a small form factor.
The antenna is a unique combination of stylish design and innovative engineering which appeals to both interior designers and architects. It recently received the 'Red Dot Award for Product Design 2019' in the category communication technology. The design, developed by Christian Keller (erfindergeist GmbH), convinced the international jury with its unique brand identity.
The SENCITY Occhio is robust, reliable and enables simplified densification of the network in an unobtrusive, attractive way. The antenna's innovative smart-connect system guarantees a quick and efficient installation process. Thanks to its multiband capability between 1.7-6 GHz and 2×2/4×4 MIMO configurations, the SENCITY Occhio antenna fulfills the multiple requirements of the 5G standard and equally meets current 4G applications.
As standard, the antenna utilizes the latest NEX10 connector interface, with outstanding PIM performance. Cable assemblies to connect the SENCITY Occhio to any other interface are also available upon customer request.
Attendees of Microwave Workshops & Exhibition (MWE) 2019 can find Huber+Suhner in Exhibition Hall at stand C-04 (M-RF Co., Ltd.) from 27-29 November.
Japan from Nov. 27-29, Huber+Suhner, 
,