Taoglas Introduces a Broad Range of 600 MHz External Combination Antennas
RFecho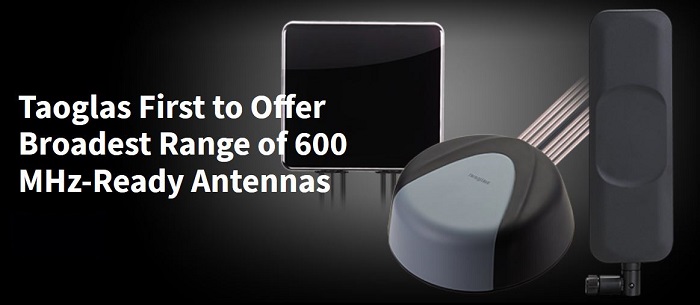 Taoglas has introduced a broad range of external combination antennas that support all cellular carrier bands. These include the 600 MHz spectrum being used by T-Mobile to launch nationwide 5G and NB-IoT services in the United States. Antennas within Taoglas' popular Guardian, Synergy and Apex antenna ranges now support 600 MHz without changes to their product enclosures or footprint, making them an ideal fit for routers, modems, and other devices that serve applications in retail, enterprise backup for business continuity, and public safety, including FirstNet applications.
T-Mobile is aggressively deploying in the 600 MHz spectrum, utilizing the low-band spectrum to roll out its 5G and NB-IoT networks across the U.S. in lower frequencies. With 600 MHz possessing longer wavelengths than traditional cellular services, it allows signals to travel further with fewer antennas required, and it also has much more effective building penetration. However, antennas need to be larger to accommodate frequencies with longer wavelengths and also the much wider bandwidth requirements of full coverage LTE and 5G. The expertise and experience of Taoglas' engineering team with both embedded and external wideband antennas has allowed it to add 600 MHz capabilities to its combination antennas within the same product enclosures.
Taoglas' cellular combination antennas that also support the 600 MHz frequency band include:
The Guardian MA931, a low-profile 6-in-1 wall- and adhesive-mount antenna, is the first compact combination antenna specifically designed for IoT gateway and router devices. The robust, high-performance and fully IP67 waterproof antenna can be mounted internally or externally.
The Synergy MA1509 is a 9-in-1 next-generation permanent-mount antenna for vehicle roof applications. The MA1509 is ideal for applications that utilize new high-performance data routers where only one antenna is desired, for example, video transmission to and from remote assets and sites.
The Apex II TG.35, a wideband cellular LTE dipole antenna with the highest wideband efficiency of any terminal antenna on the market.
The Reach PCS.66.A, an SMT onboard embedded antenna for IoT applications. This is mounted on the short edge of the PCB and, like all Taoglas cellular LTE antennas, it also covers 3G and 2G bands to allow for fallback when LTE is not available.
The FXUB64, an internal flexible "peel, and stick" antenna has been designed to cover all working frequencies in the 600-3000 MHz spectrum. It is delivered with 3M tape and adhesive with excellent electrical performance on all bands and is ground independent.
For more information about the Taoglas antennas that support the 600 MHz band, click here.