New Sector Antenna Solution Provides sub-6 GHz 5G Coverage in Stadiums
RFecho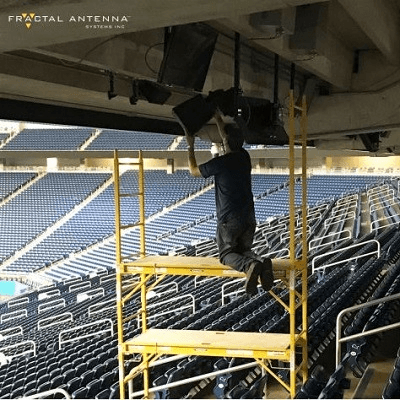 Fractal Antenna Systems has announced the first sales for the "Symphony-SP" – a new and innovative directional antenna solution for sub-6 GHz 5G sector coverage in stadiums and high capacity venues. The Symphony-SP represents a material improvement to existing solutions, delivering wideband coverage in a highly reduced size and weight.
The adoption of 5G presents major antenna challenges due to the need for wider band coverage and increasing orders of MIMO. Traditional antenna solutions require many narrowband antennas to be crammed under a single cover. This leads to increased size, complexity, interactions, and cost. As bandwidth and MIMO levels increase, it drives traditional designs headlong towards an "antennapocalypse" as FRACTAL's CEO Dr. Nathan Cohen puts it. By using proprietary wideband antenna designs, FRACTAL significantly reduces the complexity, size, and number of sub-6GHz antennas, freeing up space for more eye-pleasing solutions and/or higher performance. 
Stadiums and high capacity venues are the testbeds of the latest antenna and RF technologies. With thousands of people crowded together streaming videos and photos, these venues present an RF design nightmare. Carriers, 3POs, Integrators, and Facility owners are deploying everything they have to help alleviate this throughput pressure. FRACTAL's Symphony-SP offers an elegant antenna solution to these increasing demands. 
The Symphony-SP provides broadband MIMO coverage from 617 MHz to 6 GHz, with coverage of all key licensed and unlicensed bands – including GSM, LTE, 5G, CBRS, WiFi, C-Band, and LAA. And this coverage comes in a surprisingly small package. The Symphony-SP weighs in at less than 10 lbs and wields a footprint of less than 13"x13" – a radical reduction relative to alternative directional sector coverage solutions. Given the size advantage, some RF designers are opting to put two Symphony-SPs in the same footprint as the one antenna being replaced, for additional MIMO coverage. 
Beyond cellular infrastructure, Fractal Antenna Systems provides off-the-shelf and custom antenna solutions to a wide range of end markets and applications. FRACTAL has deployed tens of thousands of high-performance antennas for public safety, aviation, IoT, medical, and government/military applications, among others. Currently, FRACTAL antennas are deployed on the majority of the US commercial aircraft fleet. FRACTAL is also actively creating antennas to enable satellite communications with both on-satellite and terrestrial solutions in development.