Anokiwave Held 5G mmWave Array Antenna Design Technology Seminar in Taiwan
RFecho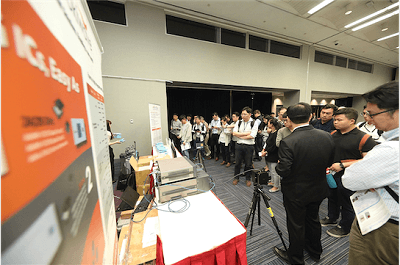 Active mmWave antennas will be deployed in unprecedented volumes over the next few years as 5G networks are now entering commercial deployment. The design of mmWave array antennas will play a crucial role in the proliferation of 5G applications. The question of how to accelerate product development and overcome technical challenges to grasp the opportunities in the 5G future was the focus of Anokiwave's recent "5G Millimeter Wave Array Antenna Design Technology Seminar" hosted by DIGITIMES. The one-day seminar took place in Taipei, Taiwan and was met with overwhelming enthusiasm and response.
The seminar provided Anokiwave the opportunity to discuss its mmWave IC solutions supporting multiple 5G use cases from macro-cells to CPE. Ball Aerospace, Auden Techno Corp., and ITRI (Industrial Technology Research Institute) also participated in the seminar and shared their views and experiences in the mmWave 5G market.
Anokiwave's unique and advanced design capabilities enable the industry's highest performing 3GPP compliant 5G radios with application from 5G infrastructure to Consumer Premise Equipment (CPE). The company has recently introduced its 3rd generation of mmWave dual polarization 5G beamformer ICs at 24/26 GHz, 28 GHz, and 37/39 GHz. Utilizing 300mm Silicon CMOS process, Anokiwave ICs provide the optimum balance of low cost and high-performance. Thereby, today Anokiwave is the industry's trusted provider of mmWave Silicon ICs for high volume commercial deployments of 5G systems worldwide.
Click here to learn more about Anokiwaves 5G IC Solutions.