Airgain's 4-in-1 Windshield Mount Antenna for Fleets & Public Safety Vehicles
RFecho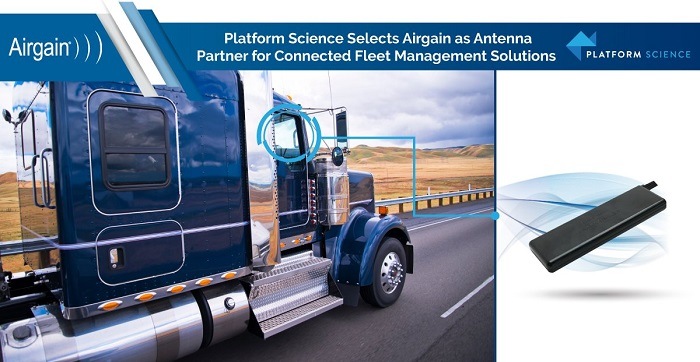 Airgain Inc has been chosen by Platform Science, an enterprise IoT fleet management platform, as its connectivity partner. Airgain has also started volume shipments in Q3-2018 of its ULTRAMAX GLASS 4-in-1 antenna, in a customized configuration specifically addressing Platform Science's key connectivity and installation requirements.
The ULTRAMAX GLASS is a windshield mount antenna equipped with four ports, designed specifically to provide high performance connectivity for Fleet and Public Safety vehicles and assets connecting to almost any vehicular router or modem. This antenna offers up to two high gain cellular/LTE/MIMO antennas, which include support for LTE Band 14 for FirstNet, a high gain Wi-Fi and a GNSS antenna inside a single robust and compact housing.
Platform Science is changing the fleet trucking industry with a platform that enables easy integration of key capabilities into a single solution that relies on multi-faceted wireless connectivity to deliver maximum impact. The company's future-first integrated solutions enable customers and developers to access valuable transportation data in real-time. Its open platform is designed to equip customers with the flexibility and control to easily integrate innovative third-party applications.
The Airgain Solution
For Platform Science, Airgain helps address the wireless connectivity requirements for real-time communication between applications, trucks, and customers to help ensure fleets meet electronic logging device (ELD) requirements in addition to providing key telematics and vehicle data. The Airgain solution turns a fleet vehicle into an IoT hub with a built-in, connected vehicle device that connects to the Airgain antenna. The solution enables communication of critical information and supports edge computing to allow real-time monitoring of key metrics and vehicle performance.
Airgain spent several months working with Platform Science to address key customer requirements, such as the need for unobtrusive interior mounting and multiple communications options, including external GPS capability for tablet connectivity. With tablet GPS being notoriously bouncy, enterprise fleets need a telematics device architecture that can provide a quality GPS signal directly to their tablets.
The result is the custom designed ULTRAMAX GLASS product that provides a sleek form factor for mounting in-dash and supports two high gain MIMO Cellular/LTE antennas, one Wi-Fi antenna, and a GPS antenna with coverage for GPS and GLONASS satellite systems. The ULTRAMAX GLASS antennas for Platform Science's solution are designed in California. This combination enables Airgain to quickly design and build custom antennas that match its customers exacting requirements, with an industry leading lead time.