HUBER+SUHNER Introduces Outdoor MIMO Antennas for Urban 5G Deployments
RFecho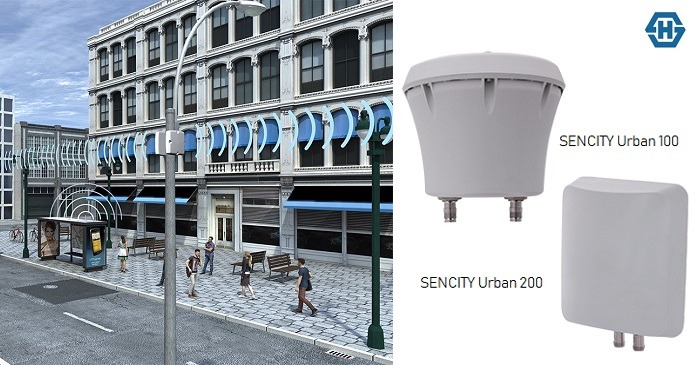 HUBER+SUHNER has introduced new compact omnidirectional and directional outdoor antennas, to help ease 4G and 5G deployments in the urban areas.
Operators today are faced with the challenge of providing cost-effective 4G and 5G in urban areas. Small cells are critical to providing increased capacity and coverage in urban areas where networks are highly congested with growing numbers of wireless devices. However, creating new cellular sites in urban areas is very challenging with only limited space available for installation and restrictions by municipal governments.
To overcome this, HUBER+SUHNER has developed small omnidirectional and directional antennas to maximize performance. The new SENCITY Urban 100 and Urban 200 outdoor MIMO antennas cover both 4G and 5G high frequency ranges and are compact enough for discreet installation in different types of street furniture, such as bus shelters, poles or walls, depending on the location, thanks to various bracket mounting options.
According to Claudia Bartholdi, Product Manager at HUBER+SUHNER, operators are under pressure to provide widespread, fast 4G and 5G coverage in urban areas where space is limited and existing infrastructure is condensed and Huber's unique range of outdoor MIMO antennas can play a major role in overcoming these challenges in small cell deployment. At the moment there are no other antennas on the market that are as compact as the SENCITY Urban 100 and Urban 200 that cover 4G and 5G bands, and Huber is thus incredibly excited to be releasing the SENCITY Urban series to the wider industry.
The SENCITY Urban range (URBAN 100 and URBAN 200) is available from this month and is the latest addition to the broad 5G portfolio from HUBER+SUHNER. Click here to view their complete antenna portfolio.