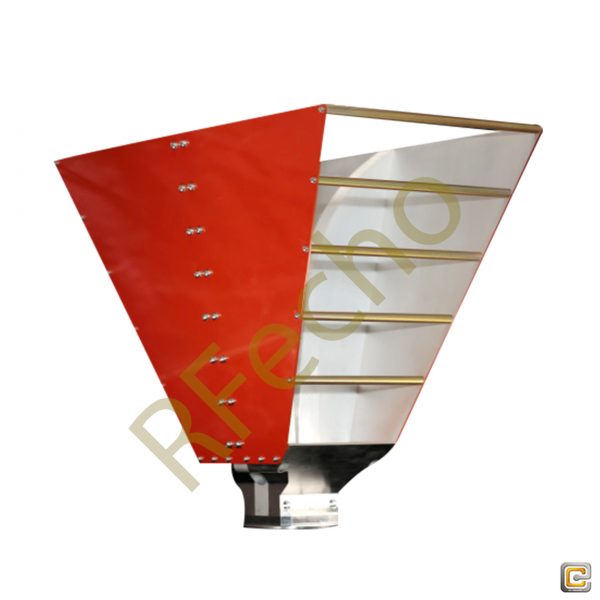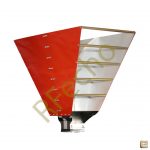 10.5 dBi Gain, 0.2 GHz to 3 GHz Broadband Dual Ridged Horn Antenna OBH-230
Product Introduction
The OBH230 Dual-Ridged Horn Antenna, a flagship offering from RFecho, is engineered for unparalleled performance in the RF domain. Operating across a broad frequency spectrum, it delivers a stable gain, ensuring consistent signal strength. Its design excellence is evident in its low VSWR, which guarantees optimal power transmission and superior signal integrity. The antenna's unique design effectively suppresses higher order modes, ensuring a clear and precise signal.
Its lightweight construction, despite its robust features, makes it a prime choice for applications requiring mobility and field deployments. Durability is at its core, with a protective treatment of Surtec 650 and a finish of polyurethane paint, ensuring it stands resilient against environmental challenges. Precision is another hallmark of the OBH230, with features like a precision pin for accurate polarization alignment and a high-reliability coaxial connector.
Furthermore, its versatile mounting options, including a mounting flange and an integrated coaxial transition with a high precision connector, make it adaptable to a myriad of setups. An optional protective radome ensures its readiness for outdoor installations. In essence, the OBH230 is not just an antenna; it's a testament to design excellence and technical prowess, ready to cater to a diverse range of RF applications.
Description
Additional information
Reviews (0)
Description
OBH-230 double ridge horn antennas operate broadband from 0.2 GHz to 3 GHz. The antenna supports linear polarized waveforms. This antenna is appropriate for the test of wireless and telecom communication antennas. High gain and low VSWR permit the measurement of weak signals and the generation of high field strengths without any significant return loss.
OBH-230 is calibrated individually in line with ANSI C63.5-2006, making the antennas ideal for EMC/RF measurements. OBH-230's radiation pattern contains only one single main lobe over the entire frequency range without any other side lobes. The antenna is low weight within 6.0kg and has a rugged construction. More RF Antennas.
SPEC
Broadband Horn Antenna

10.5 dBi Gain, 0.2 GHz to 3 GHz

OBH-230

Property

Value

Min. Frequency (GHz)

0.2

Max. Frequency (GHz)

3

Gain(dBi)

10.5

VSWR (Max.)

2

Polarization

Single Linear

Cross Polar Isolation (dB)

50

Impedance (?)

50

Features

Linear polarized with high polarization purity

Frequency from 0.2 GHz to 3 GHz

Low return loss / VSWR

Wide bandwidth

Uniform Gain

High Power Handling Capability

Radiation pattern contains only one main lobe over the entire frequency range

Each antenna is calibrated individually in line with ANSI C63.5-2006
PDF
Outline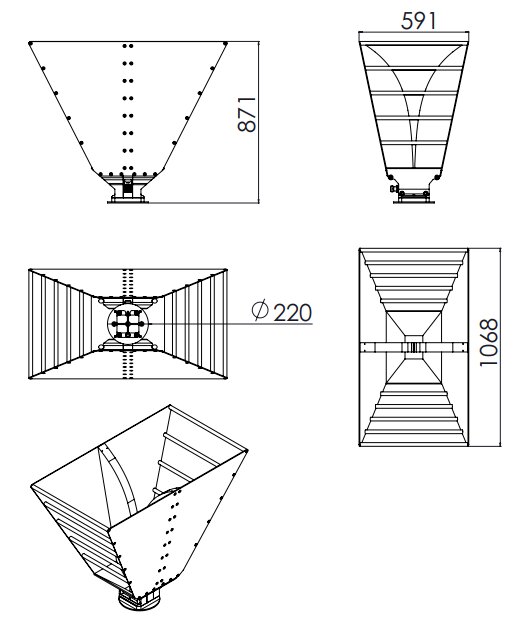 Additional information
| | |
| --- | --- |
| Min. Frequency (GHz) | 0.2 |
| Max. Frequency (GHz) | 3 |
| Gain (dBi) | 10.5 |
| VSWR (Max.) | |
| Cross Polar Isolation (dB) | |
| Polarization | |
| Impedance (Ω) | |