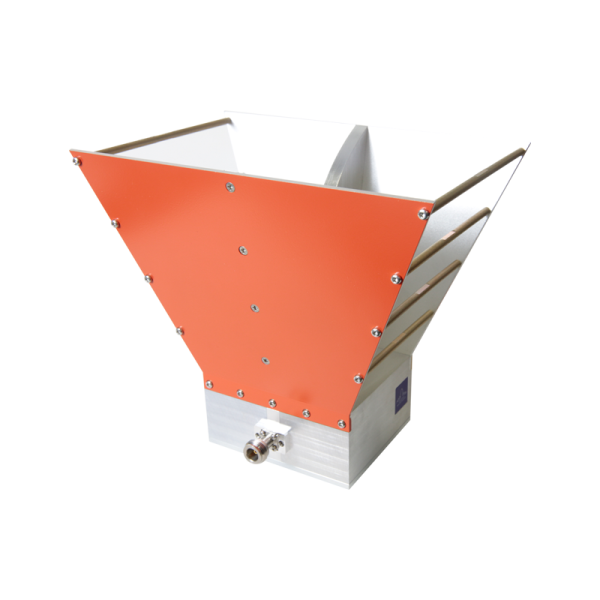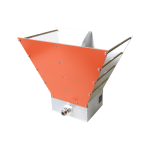 10.5 dBi Gain, 0.8 GHz to 8 GHz Broadband Dual Ridged Horn Antenna OBH-880
What can OBH-880 Dual-Ridged Horn Antennas do?
Dual-Ridged Horn Antennas are the most widely used microwave antennas in antenna measurement, electromagnetic compatibility (EMC) testing, radar, and communication systems. An antenna characterization setup such as a compact antenna test range is used as a standard reference. Using this antenna, airborne wireless communications can be improved dramatically and support various data transmission functions and services. This antenna can use for calibration systems, and antenna test systems can be applied to reflective antenna feeds and can also support a variety of mobile communications. Dual-Ridged Horn Antennas are receiving antennas for a radiated emission test. This technology can also be applied to asphalt pavement surface microwave heat regeneration equipment to speed up logistics efficiency and detect concrete structures.
What are the characteristics of OBH-880 Dual-Ridged Horn Antennas?
Dual-Ridged Horn Antennas OBH-880 operates on a wide range of frequencies from 800MHz through 8GHz. As far as the C band is concerned, it is covered. The ridge is tapered from the throat to the aperture for smooth impedance matching between the waveguide section and the free space. Contrary to most ridged horn antennas, a configuration has been found for high gain and low side lobe levels at the H-plane and E-plane. A VSWR of 1.4:1 was simulated at a frequency range of 2.7-3.5 GHz with a perfect waveguide port for the designed antenna, and a VSWR of around 1.8:1 was measured at a frequency of 3 GHz using a coaxial to waveguide adapter for the fabricated antenna. In addition, the OBH880 is exceptionally light, weighing only 1750 grams, which is lighter than a 14-inch laptop and comes with a box that allows it to be portable and tested quickly. The antenna supports Single Linear polarized waveforms. The gain increases with frequency up to approx.15 dBi, depending on the horn's size and shape. Apart from the simple construction and easy excitation, it exhibits good directivity and peak power handling capability.
Description
Additional information
Reviews (0)
Description
OBH-880 double ridge horn antennas operate broadband from 0.8 GHz to 8 GHz. The antenna supports linear polarized waveforms. This antenna is appropriate for the test of wireless and telecom communication antennas. High gain and low VSWR permit the measurement of weak signals and the generation of high field strengths without any significant return loss.
OBH-880 is calibrated individually in line with ANSI C63.5-2006, making the antennas ideal for EMC/RF measurements. OBH-880's radiation pattern contains only one single main lobe over the entire frequency range without any other side lobes. More RF Antennas.
SPEC
Broadband Horn Antenna Specifications

10.5 dBi Gain, 0.8 GHz to 8 GHz

OBH-880

Property

Value

Min. Frequency (GHz)

0.8

Max. Frequency (GHz)

8

Gain(dBi)

10.5

VSWR (Max.)

2.7

Polarization

Single Linear

Cross Polar Isolation (dB)

50

Impedance (?)

50

Features

Linear polarized with high polarization purity

Frequency from 0.8 GHz to 8 GHz

Low return loss / VSWR

Wide bandwidth

Uniform Gain

High Power Handling Capability

Radiation pattern contains only one main lobe over the entire frequency range

Each antenna is calibrated individually in line with ANSI C63.5-2006
PDF
Outline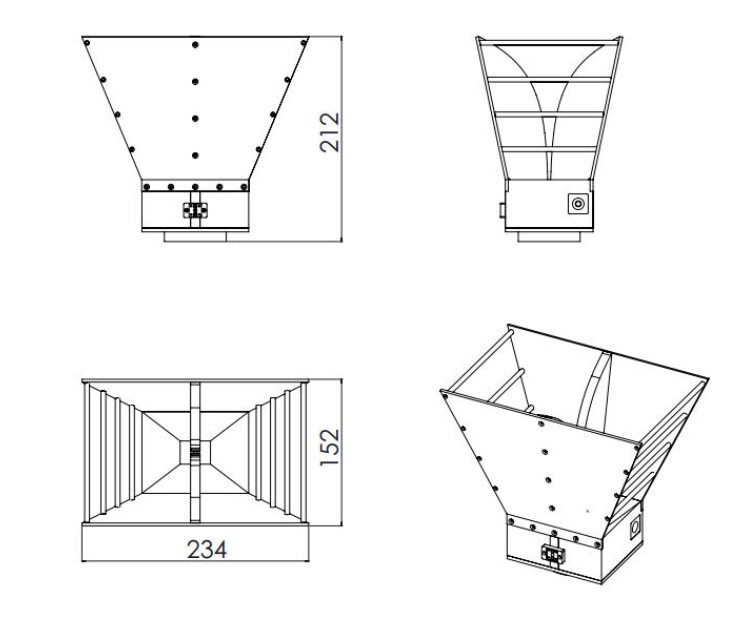 Additional information
| | |
| --- | --- |
| Min. Frequency (GHz) | 0.8 |
| Max. Frequency (GHz) | 8 |
| Gain (dBi) | 10.5 |
| VSWR (Max.) | |
| Cross Polar Isolation (dB) | |
| Polarization | |
| Impedance (Ω) | |